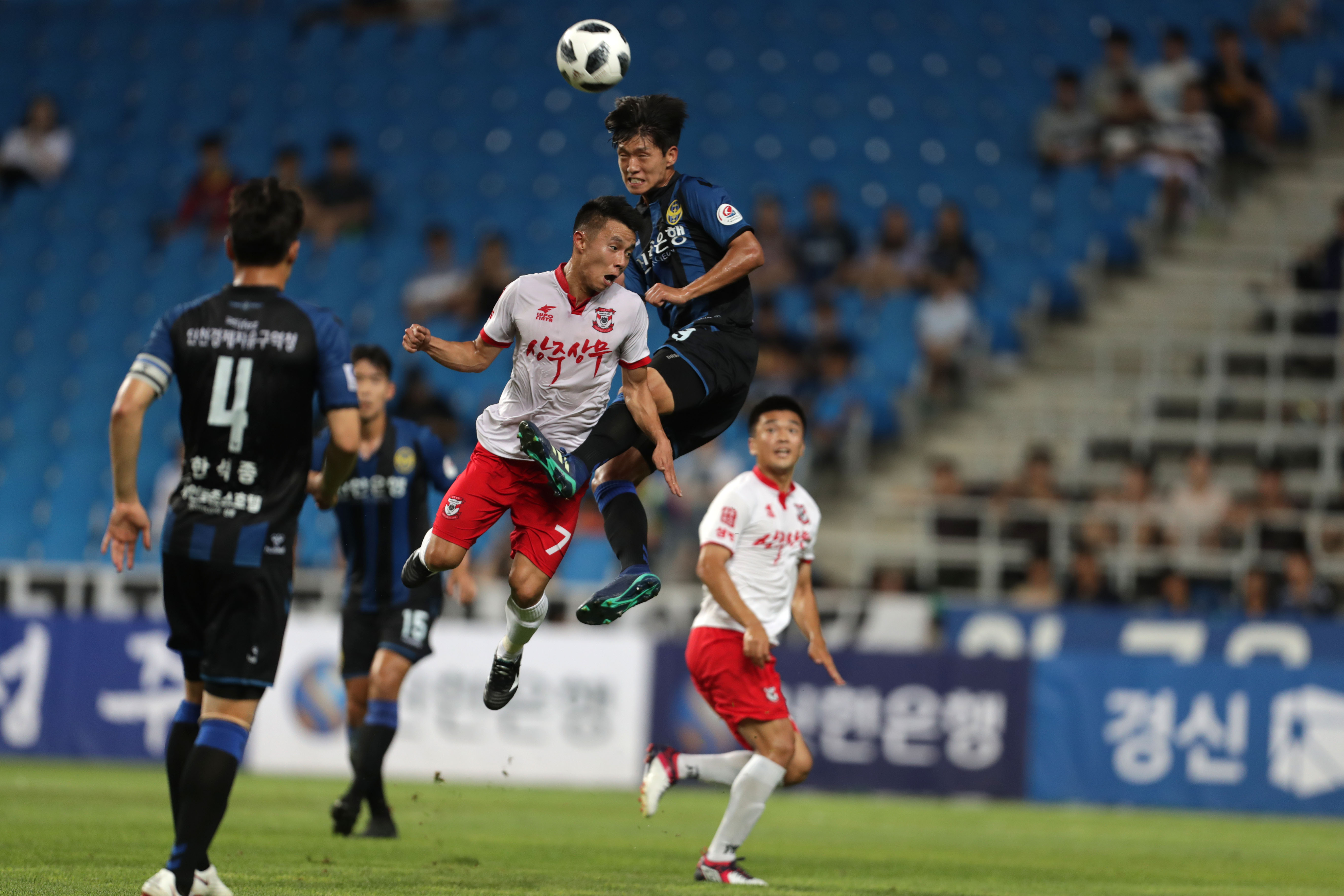 With just five matches remaining, time is running out for teams to avoid relegation or stake their claim for the final AFC Champions League places. Suwon and Pohang square off for the fourth time this season knowing a loss may be enough to eliminate any hopes of ACL next season. Elsewhere the relegation battle kicks into high gear as 12th placed Incheon United host 9th placed Sangju Sangmu with United running out of time to make another great escape. These match ups and more in Ryan Walters' comprehensive Round 35 preview of K League 1.
---
Saturday, November 3rd
#JEJvGYE: Jeju United (6th) vs Gyeongnam FC (3rd) 14:00
The suddenly red hot Jeju United host a stumbling Gyeongnam FC side that dropped out of second place for the first time in months last weekend. Enjoying their first four game league winning streak since 2016, Jeju look to keep their momentum going this weekend and potentially claim fourth place and the AFC Champions League playoff spot that comes with it should Ulsan Hyundai win the FA Cup. The Islanders rapid climb up the table has come on the back of striker Tiago Marques getting hot at the right time with two of the four game winning goals of the winning run, and some stellar defensive play that saw them hold three clean sheets in a row before conceding a lone goal to Pohang last time out. United will feel confident heading into the match having recently shut out Gyeongnam, but even when they're not at their best, the Reds' attack is one of the most dangerous in the league.
Still in ACL qualification position and nine points clear of Suwon in fourth place, not much changed for Gyeongnam's future plans last weekend. However, should they continue on the path they've been on, that may well change. To avoid any further downfalls, Gyeongnam need to do what they've done all season and barrage the opposition net. Jeju are indeed in a fine run of form, but three of the four wins were 1-0 results. Scoring just twice this weekend, as Gyeongnam have done 19 times this year, should be enough to see Kim Jongboo's men pick up full points.
You can read Branko Belan's full preview and prediction here.
#INCvSAN: Incheon United (12th) vs Sangju Sangmu (9th) 16:00
12th placed and currently set for relegation Incheon United host 9th placed Sangju Sangmu in what may well be their most important match of the season thus far. United enter on two straight defeats and are in desperate need of a win if they're to drag Sangju back into the relegation battle after the military team earned full points against Jeonnam last time out. Losing 3-2 to Jeonbuk on the day they were handed their trophy is nothing to be ashamed of, but being held scoreless against Daegu at home should raise alarm bells for manager Jørn Andersen. To make matters worse, Incheon have yet to beat Sangju this season losing twice and drawing 0-0 last time they faced each other. If United is going to pull themselves out of the relegation zone for yet another year, picking up their first win against the military side is an absolute must this weekend.
Conversely to their hosts, Sangju head into Saturday with a bit of momentum and the opportunity to perhaps permanently distance themselves from the relegation zone with a win. Last weekend's narrow 1-0 win over Jeonnam saw Sangju leapfrog FC Seoul and take 9th place. Another victory this weekend would put them nine points clear of Incheon with just three matches remaining. With seven of their nine clean sheets this season coming away from home, look for Sangju to bunker once again and hope that a lone goal will be enough to move another step closer to safety.
You can read Tim Barnes' full preview and prediction here.
Sunday, November 4th
#DAEvSEO: Daegu FC (7th) vs FC Seoul (10th): 14:00
Fresh off of their 2-1 FA Cup Semifinal win over Jeonnam, Daegu FC return home to face FC Seoul Sunday afternoon. A full 10 points clear of Jeonnam in 11th and unable to climb any farther in the table, Daegu's K League 1 season is essentially finished. By all means, manager André Gaspar should turn his attention to the FA Cup Final looming against Ulsan Hyundai and rest key players this weekend. None of that should imply that Deagu will simply roll over this weekend. As one of Korea's smaller clubs, a win over FC Seoul, even in one of their worst seasons, is still significant. The Sky Blues have only beaten Seoul nine times in their history and the current season series is tied at 1-1-1. A season series victory that pushes Seoul closer to relegation should certainly be enough to motivate any group that takes the field this weekend.
Unlike their hosts, FC Seoul's season is far from over as the capital club continues their astonishing flirtation with relegation. Just four points clear of Jeonnam in 11th place, recently reinstated gaffer Choi Yongsoo needs to work magic much sooner than later if he wants to remain in K League 1 next season. With just one win in 12 and scarcely more goals, Seoul seem more and more likely to go the route of 2016 Seongnam FC and stumble their way into the Promotion/Relegation playoff. Just one win in their next four matches could be enough to avoid a similar fate and they will scarcely find a better opportunity than this weekend with a potentially distracted Daegu FC. Considering Seoul have Jeonnam, Incheon, and Sangju all yet to play, this weekend feels like a must win if they're to have anything close to a comfortable lead over the teams around them in the relegation battle.
You can read Muyeol Jung's full preview and prediction here.
#JHMvULS: Jeonbuk Hyundai Motors (1st) vs Ulsan Hyundai (2nd) 14:00
Reigning champions Jeonbuk host their Hyundai counterpart this Sunday in an oddly lackluster 1st vs 2nd match up. Having already added another K Leauge trophy to their cabinet, being out of the FA Cup and ACL, and preparing to bid farewell to their legendary manager, Choi Kanghee, Jeonbuk don't seem to have much to play for. A simple fact that has done nothing to slow down the truly ruthless champions as they extended their 11 match unbeaten streak with a 2-0 win over Suwon last time out. With Choi set to leave this winter, there are bound to be some shakeups to the roster as well, and many players will be playing for a spot with the team likely favored to contend for another ACL title next season.
Having recently taken second place and a much firmer grip on Champions League football next season, Ulsan will look to further stake their claim as one of Korea's elite squads this weekend. Without a win in four straight matches, Ulsan could pick up a morale boosting win over the top team in the league this weekend to prepare them for their second straight FA Cup final. Look for manager Kim Dohoon to rest a number of his key players after playing in the Cup midweek, but if Ulsan's leading scorer Junior Negao sees the field for even 20 minutes, Jeonbuk will have their hands full.
You can read Matthew Binns' full preview and prediction here.
#GANvJND: Gangwon FC (8th) vs Jeonnam Dragons (11th) 16:00
In a rare fourth meeting between the sides in a season, Gangwon FC play host to Jeonnam Dragons for one of the late kick offs this Sunday. Seemingly set in 8th place with an eight point gap between them and their opponent, Gangwon may have a false sense of security heading into the match. Should they lose to Jeonnam, the gap between them and another Promotion/Relegation playoff would shrink to five points with four matches remaining. With just one win in ten, it's more than a possibility. To rescue them from any such fate, Gangwon will lean on Golden Boot chasing Uroš Đerić once again. The Serbian striker already has four goals against the Southern Jeolla side this season and is just three behind Gyeongnam's Marcão for the league lead. Should Đerić come through once more, Gangwon should be safe for the season. If he and the rest of the attack fail, it could be the start of something much worse for the team that started the season with ACL ambitions.
With just five matches remaining, every match is a must win for Jeonnam starting this Sunday against a team they haven't beaten since April, 2017. Aside from a daunting head to head history, Jeonnam is also facing an uphill battle simply by making the long trek North for the match. Without a win in 10 straight away games, the Dragons will need to reverse a number of fates Sunday if they're to walk away with all three points. Knowing that Gangwon have held their opponents scoreless just twice all year, look for Jeonnam to hit the ground running and go for an early goal to set them up for the rest of the match.
You can read Steve Price's full preview and prediction here.
#SSBvPOH: Suwon Samsung Bluewings (4th) vs Pohang Steelers (5th) 16:00
Just over a week after crashing out of the ACL in heartbreaking fashion, Suwon Samsung Bluewings will look to see off a stumbling Pohang side to cling to their last hopes of international football next season. Currently nine points back of Gyeongnam FC in third place and the guaranteed ACL spot that comes with it, Suwon are in very real danger of missing out on the competition they were in the Semifinal of this year. To get back to ACL, Suwon need to hold on to fourth place and hope Ulsan see off Daegu in the FA Cup. If neither of those things happen, then a season that saw Suwon fighting valiantly on three different fronts will come to a tragic end for a fanbase that has already endured quite a bit this year. Knowing this, manager Seo Jungwon should have his squad up to the task Sunday afternoon and is likely to put out his strongest lineup knowing how vital this match is to the Bluewings ACL hopes.
Having recently suffered a closely contested 2-0 loss last time they were in Suwon, Pohang will have revenge on their mind this weekend. While finishing in the top half is a promising sign for a Steelers side that has struggled in recent years, they will want more knowing how close they are to returning to international football. In order to leapfrog their Northern rivals, Pohang will need to find the consistency that has proven elusive all year long and hope that a goalscorer can emerge from the pack. Leading the team with eight goals and providing the most headaches for the opposition all year long, Kim Seungdae seems the most likely yet again.
You can read Ross Davis' full preview and prediction here.
KLeagueUnited.com Editor in Chief